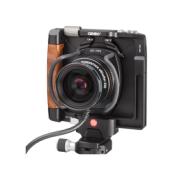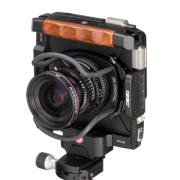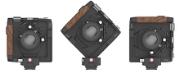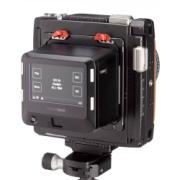 CAMBO WRS-1600 WIDE RS BODY
CAM99162300
Dagspris

0,00 SEK
Pris för period

Ett periodpris kunde inte beräknas
Cambo WRS-1600 Wide RS Body
The Cambo WRS-1600 series is a new addition to the Wide RS Family, made from high grade aluminium as used in aerospace technology.
The movements are driven by accellerated spindle gears, operated by XL size stainless steel driveknobs with excellent grip. These precision-geared controls provide architectural photographers with many of the image-placement movements they require, while giving digital photographers the ability to create amazing vertical and horizontal panoramic images through stitching several exposures together.
A unique feature of the WRS-1600 is its ability to rotate the full camera/lens/back assembly in the tripod mount between landscape and protrait mode within seconds, without removing any part and still keeping the optical center in the same position.
Additionally many of the Lenspanels can optionally be acquired with a Tilt-Swing possibility, to add Scheimpflug settings for increased depth of field, in both horizontal as vertical plane or intentionally selective sharpness where needed.
Like the other Cambo Wide models, the WRS-1600 features interchangeable interfaces for Hasselblad, Leaf, Phase One and Sinar digital backs. Mounts are available for Hasselblad V, Hasselblad-H, PhaseOne-DF/XF, Mamiya 645DF and Contax 645AF compatible camerabacks. A dedicated interface plate hosting both Leaf AFi and Sinar HY6 backs is also available.
In order to accomplish nearly any architectural or landscape assignment, the Wide RS accepts the full range of WDS lens panels that incorporate the Schneider Digitar and Rodenstock Digital lenses. Choose from focal lengths ranging from 23mm up to 150mm and more on request.
Key Features:
High grade aluminium body in black anodised finish
Wooden handgrip with cable release support
Handgrip made of Palissander wood
Stainless steel XL drive knobs for shifts and rise / fall
Fully compatible with Cambo's WRS system
Lightweight only 0.92 kgs (excl. lens)
Stitching possibilities (2-way / 4-way)
Milimeter scales for movements
Movement indicators on rear sides
Removable cable release included
Integrated 1/4 - 3/8" tripod mount (Arca compatible)
3 spirit levels
Accessory mount for 2 point fixed accessories
Additional LED light included
Optional WTS Tilt-Swing Lenspanels
Optional Viewfinder
Broad range of optics
Retrofitting of user lenses offered
| | |
| --- | --- |
| Tillverkare | Cambo |
| Kategori | Mellanformat |
| Mellanformatenhet | Camera |